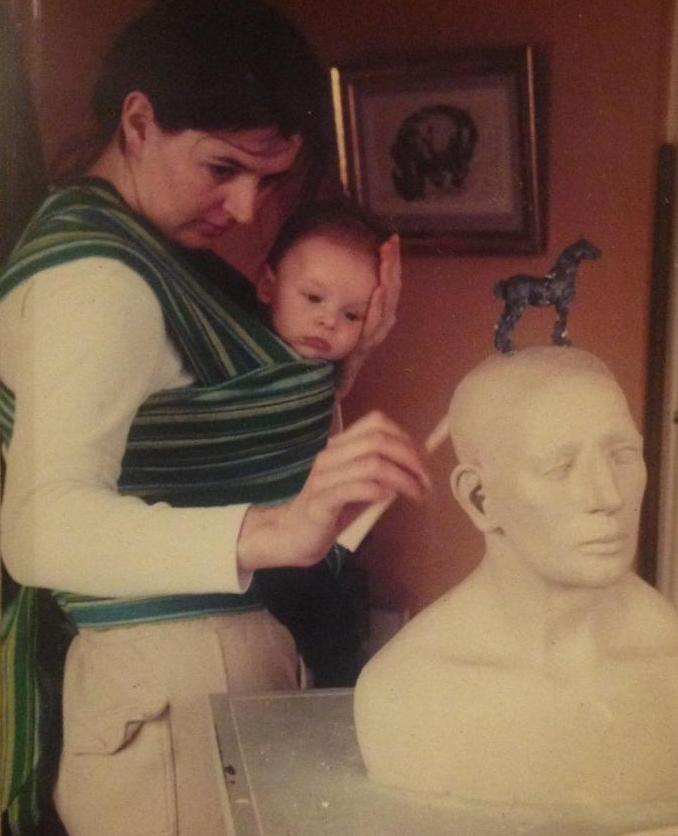 Both figurative and abstract forms of art have my interest.
However, I have chosen to work in a figurative way, because it enables one to place yourself into new worlds. Figuration has a larger meaning to me – I do not just speak of copying reality. Illusion is my passion. I like to paint in a suggestive kind of way.
Although I also quite enjoy non-figurative work, like for instance Antoni Tapies' his art. But such kind of work sometimes tends to stay just too decorative.
I paint landscapes that form an allegory to the origin – birth, life and death. Here-within I like to bring the value of intimacy to people's attention. The paintings' sizes are often large. Such a big, white canvas feels to me like a standing tidal wave. The picture then slowly grows. The image builds up from blurred spots, shaping forms that get sharper and sharper. In the final stage, I work out tiny details. Then I feel like a watchmaker working on large scale.
There are also paintings that have no perspective. Just an object, placed in space. Concerning the human figure I paint, it is almost comparable to classical figuration, using only natural poses. That is why you will never find for instance a ballerina in one of my paintings. I avoid so-called romantic poses. Through soberness I believe to create work that is catching and credible.
I had my First exhibitions at three different galleries. With paintings containing line based compositions, a small group of admirers formed. After this period I painted seven Dutch authors, whom I admired. These portraits were purchased by the Dutch Museum of Literature in The Hague. Several portrait commissions followed. Exhibitions were booked two years in advance. Because of time-pressure I fell into repetition and decided to cancel all exhibitions.
Despite the Financial consequenses. I dedicated my work to a new series of large paintings with the theme: "the Origin".
These paintings were exhibited in The Museum of Figurative Art: "de Buitenplaats" in Eelde 2002. A next exhibition followed a year later at Museum "The Markiezenhof" in Bergen op Zoom. Both exhibitions also showed sculptures of Gerhard Lentink.
At the Dutch Biennale Figurative Art the public voted in favour of my work in Arnhem 2004.
A visit, to the biggest petrochemical industry in the Netherlands: the Botlek in Rotterdam, made a big impression. Especially at night, this allien landscape was confronting, with a harsh kind of beauty. What did man evolve into? We are depending on these growing fields of heavy industry, genius of man is its ruin. (unless we accept cradle to cradle philosophy).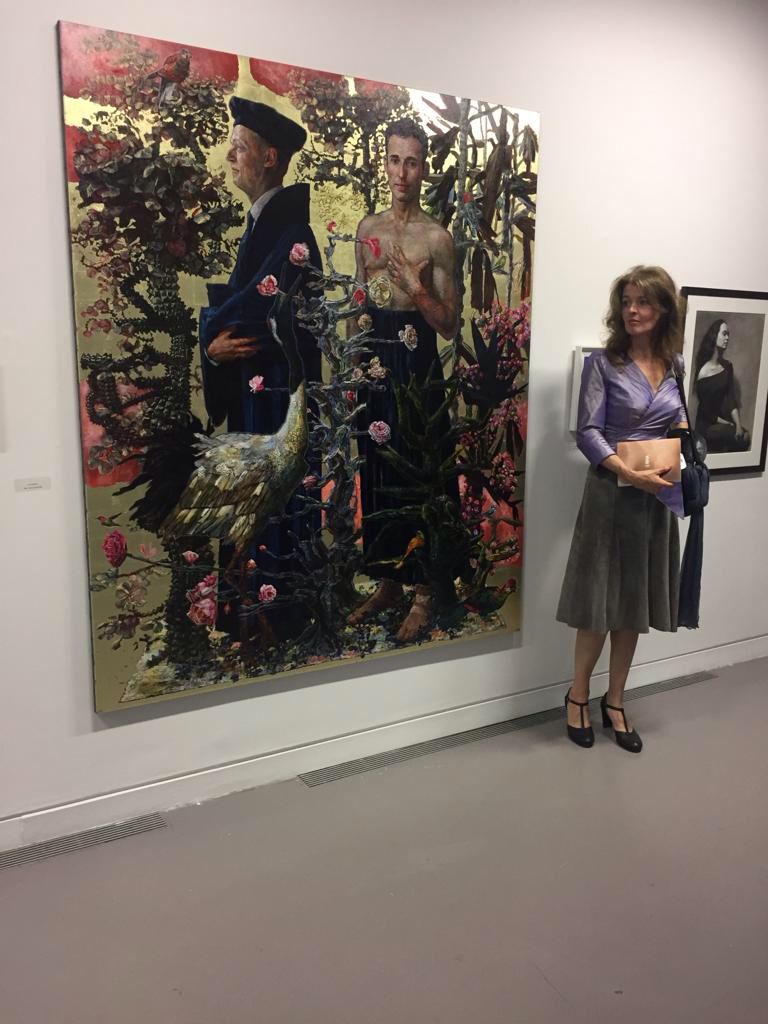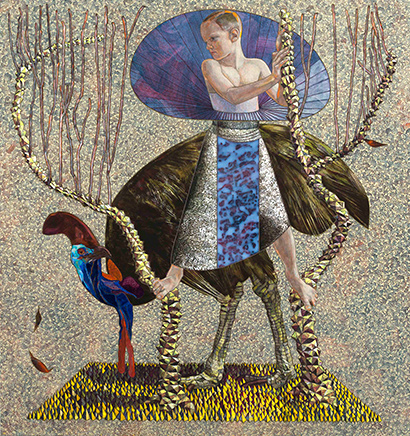 My fascination for our planet, as a small bead spinning through space gave me an new theme.
"The starry rider"is a painting in which a boy is sitting on top of a moonfish. The boy his head is separated form his body and becomes a planet. He is surrounded by flying satellites which look a bit like toys. The moonfish is swimming in a tank of water. The surface of the water is goldleaf, reflecting the light.
Working on paper enables me to show intimate "worlds" often inspired by our travelling.
Travelling to remote places where we ( me and my husband Reinier Sijpkens and our two sons Merijn and Siebe) performing for big groups of children surprising them with Music, magic-trics, mime, dance and painting.
My 2012 series of paintings reveal people meeting animals in an imaginary world. In each painting earth has become like a small Island floating in a coloured universe where both people and animals in their mutual understanding are at ease in each others space.